Moving your Vortex Mod Setup to a new Computer
Considerations
While it is possible to move your Vortex and mod setup to a new device (computer/laptop), there are several requirements that need to be met to ensure Vortex's functionality on the target computer. Depending on your setup, it may be preferable to simply install Vortex and your mods anew.
To speed this up, you can grab your downloaded mod archives by accessing your download folder.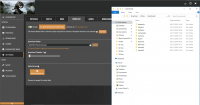 Go to Settings > Downloads > click the hyperlink to open your Vortex downloads folder
Grab your archives from the downloaded mods
On the new computer, install Vortex (download the latest version from Nexus Mods)
Drag and drop your mod archives into the Mods landing zone
Following that, simply reinstall your mods picking your preferred options.
Moving Vortex and installed mods to a new device
After installing Vortex on your new device make sure to copy the Vortex folder found in User/AppData/Roaming/ to the same exact location on your new computer/laptop.
Further, it is crucial that your mod staging folder, as well as the mod download folder, are both created in the new environment (new PC) at the exact same location as they were on your old device. Do not run Vortex on the new computer until you have moved your mod staging folder and download folder to the new device at the exact same location. Otherwise, Vortex will assume your mods/downloads have been deleted.
BigBizkit 11:16, 30 November 2018 (GMT)