Setting up profiles in Vortex
Profiles are a useful way to keep mod lists, game settings and save files separate for different characters on the same game. Currently, this functionality is disabled by default but can be enabled using the toggle on the "To-do" dashlet or in the settings menu under "Interface".

Once you exit the settings, a new option should appear in the navigation area on the left of Vortex. Opening the profiles section will show your current games default profile. This will contain the current mod list you have enabled. To start a new profile, click the button below the profile tiles. This will open the form with the following options:
Name - This is what the profile will be called.
This profile has its own save games* - Keep the save games for this profile separate.
This profile has its own game settings* - Keep game INIs specific to this profile.

*These options may not appear for all games.

You can now toggle between the two profiles by pressing the "Enable" button beneath each. The icon in the bottom right of each profile will allow you to easily transfer the currently enabled mods list from one profile to another by dragging it onto the icon on a different profile.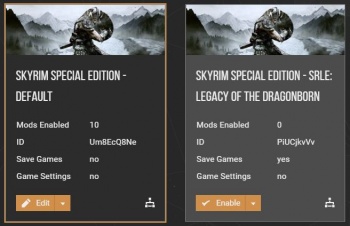 Using the drop-down menu on each profile you can also clone it, remove it permanently and open the profile's save game folder (provided the title supports save profiles).
--Pickysaurus 16:16, 27 September 2018 (BST)