Photoshop retexturing made easy
Here's a cheap, simple way to retexture armor (or anything really) in Photoshop. The results can range from awful to awesome depending on your skill level and the time you take. Make sure you have the Photoshop DDS plugin from NVIDIA (available here) because it makes retexturing SO MUCH EASIER. Also, umm, you'll need to have Adobe Photoshop installed, of course.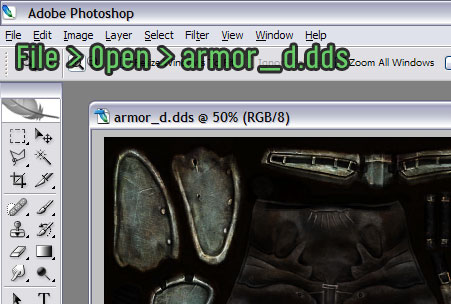 1) Open the DDS file you want to retexture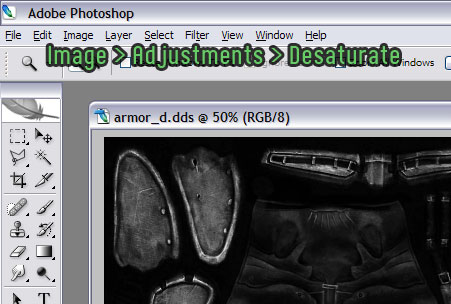 2) Image > Adjustments > Desaturate

3) Save the file as a PSD (I recommend ITEMNAME_dis.psd as this will be your displacement map).

4) Edit > Undo (to reverse the desaturation)

5) Create a new layer - let's call it Texture Layer

6) Fill the Texture Layer with the texture you want on the armor

7) Make sure the Texture Layer is highlighted in the layers palette and change the blending mode to Overlay (you can also try Lighten, Linear Dodge, etc to get the look you want)

8) Change the opacity of the Texture Layer to fine-tune the look

9) With the texture layer highlighted in the layers palette, go to Filter > Distort > Displace

10) Use the following settings: 10, 10, Stretch to Fit, Repeat Edge Pixels

11) Click OK and then browse to your ITEMNAME_dis.psd file

12) Your Texture Layer will warp to better fit your armor (or weapon, item, etc)

13) Erase any areas you do not wish to be retextured

14) The retexture is ready: save as a DDS and test it in-game